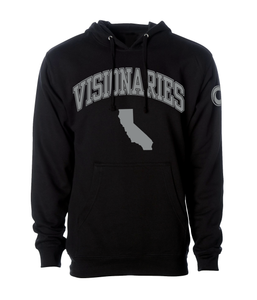 Please allow 2 weeks for the items to ship.
Visionaries grew up in the neighbor-goods of Los Angeles & San Diego. Our first show together in September 1995 was in San Francisco. We've played shows from Humboldt to the border, and needless today, love our state of California.
For the first time in almost 20 years, we are producing the CA hoodie.
Printed on a high quality Heavyweight hoodie, this will be your go to hoodie.
Pick the color(s) of your choice, and make sure you get them all for your X-mas gifts, because these will only be available to order for 72 hours starting at 5pm Friday 11/18/22.
As our good friends the Chronic Avengers made up the saying, CA ALLLL DAAAY!