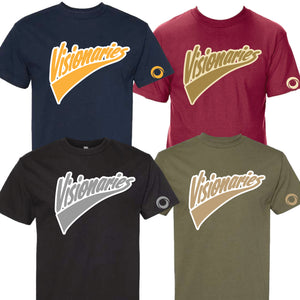 This classic Visionaries Baseball Logo was designed for the 1999 "Reach" 12 inch single cover by RichOne Cofinco (who created the Visionaries EyeCon logo and designed the "Galleries" and "Sophomore Jinx" album covers, along with many other iconic works by Visionaries and our artist families). 
It's been 10 years since we pressed up the Silver & Black.
20 years since we've done the Navy & Gold and Army & Tan color ways.
The Cardinal & True Gold is a never done before color.